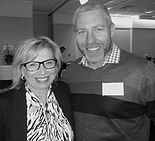 Sharing the learnings from my Churchill experience while presenting at the Ending Domestic Violence Conference, Sydney. Pictured with 2015 Australian of the Year, Rosie Batty.
Chris is an experienced trainer and facilitator who has presented at numerous national and international symposiums and conferences. He has a broad array of networks and works closely with the universities, government and non-government organisations to deliver education, training and consultation on child protection practice and systems improvement to promote positive outcomes for children, families, professionals and organisations. Chris promotes a philosophy of family preservation across the child protection continuum and works effectively with organisations to implement child safety and family centred practices.
Chris has a passion for supporting child protection practitioners, support workers and carers who give a voice and opportunity to the most vulnerable children, young people and families in our community. Chris has developed a wide range of tools, resources and training packages to build capacity of child protection practitioners and system responses that he has both delivered and shared nationally and internationally. Furthermore, Chris has worked closely with Aboriginal and Torres Strait Islander organisations and Culturally and Linguistically Diverse (CALD) groups to have these resources modified to ensure cultural appropriateness.
Chris provides training and consultancy across many areas, including:
- Engaging hard to Reach Families
- Practice Frameworks
- Reconceptualising Child Protection
- Complex Case Discussions
- Safety Planning
- Child Sexual Abuse
- Family and Domestic Violence
- The Alignment of Culture and Practice
- Leadership and Management
- Vicarious Trauma